4th Nine Weeks/Second Semester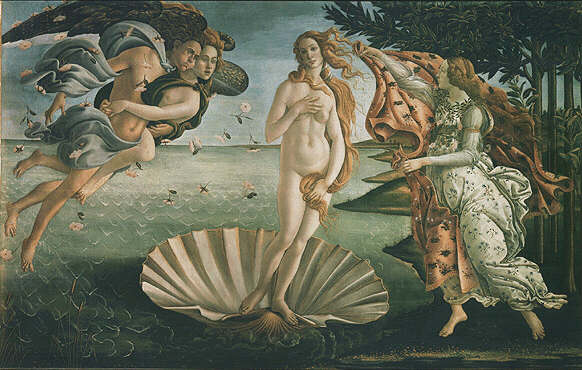 Botticelli, The Birth of Venus
Students read notes from the bottom up
Art Fee: $19.00
Monday, May 6-Wednesday, May 22
1. SLIDES: Race, Gender, Clan and Class
2. Assignment: Identity Self-Portrait
a. Students will begin brainstorming ideas for their self-portraits (making lists)
b. Students will bring in found objects in addition to other materials that are related to their identity, culture, gender and society
c. Students will being to "combine" their found obejcts with painting and collage these images together to create a slef-portrait that represents who they are and their different roles in society and culture
d. Students must incorporate 5 symbols into their self-portraits
e. Students will also write an artist statement
i. explaining self portrait
ii. discuss what each symbol means in relation to the portrait
iii. discuss how your culture makes you unique in today's society
3. Show student samples
Project is 4 grades: creativity (variety), technique, composition (harmony) and unity
Frida Kahlo
Norman Rockwell
---
Thursday, May 2-Wednesday, May 22
1.

Assignment: (Artists can use cultural and invented symbols to represent their own or others' identities.)
2. Students discuss the meaning of identity, explore traditional, cultural, and invented symbols, study portraits which use visual symbols, create a portrait which includes symbols to express your identity, and write a short artist's statement describing your work.
a. Explore your own identity through discussion and research:
b. Recognize symbols as concrete signs or images that represent some other, more abstract thing or ideas.
c. Create a self-portrait that employs cultural and/or invented symbols to express identity.
i.Collect identity symbols
ii.Ask students to think about their own identities and have at least five symbol ideas to
begin their identity portraits
d.Write an artist's statement that describes their identity-portrait (next slide)
3. Medium/Size – any medium, larger than 9" X 12"
4.
Write an artist's statement, in one to two paragraphs (TYPED), that describes your identity-portrait:
• Reflect on the meaning(s) of identity.
• Compares and contrasts visual symbols used to communicate ideas in various cultures to your own
• Discuss self-portrait to communicate your identity using cultural and/or invented symbols.
Web source: http://www.princetonol.com/groups/iad/lessons/elem/Theresa-portraits.htm
---
Thursday, April 18-Tuesday, April 30
1. SLIDES: Social Protest/Affirmation/Oppression
2. Assignment: Create a Propaganda Poster that deals with Social Protest
a. Definition: Propaganda is a concerted set of messages aimed at
influencing the opinions or behavior of large numbers of people.
Instead of impartially providing information, propaganda in its
most basic sense presents information in order to influence its
audience. The most effective propaganda is often completely truthful,
but some propaganda presents facts selectively to encourage a
particular synthesis, or gives loaded messages in order to produce
an emotional rather than rational response to the information presented.
The desired result is a change of the cognitive narrative of the subject in the
target audience.
(http://en.wikipedia.org/wiki/Propaganda)
b. Create a poster protesting a socially oppressed group.
c. In class, list all the different social causes you can protest
***Remember you have to try and convince ME of your cause.***
2 Grades:Visual, Message, Craftsmanship
Mark Dion, Landfill, Mixed Media, 1999-2000
3.
Homework Assignment: Famous Artwork Album Cover
a.Find an album cover that uses a famous work of art
i.Include:
a.Print out of album cover and original artwork
b.Name of musical group or musician
c.Name of album and year
d.Name of original artist
e.Name of original artwork, medium and year
Eugene Delacroix, Liberty Leading the People,
Oil on canvas, 1830
Cold Play, Viva La Vida, 2008
---
Tuesday, April 2-Thursday, April 18
1. SLIDES: Power, Politics and Glory
2. Assignment: Create a piece of paraphernalia/Writing Assignment #5 (2 Grades-visual/message)
a. Using a current newspaper or magazine editorial, find an article that endorses or rejects a political view
b. Cut out and keep article to attach to project
c. Create works of art that promotes, popularizes, strengthens or makes a statement about the government as well as those who lead them.
d. Works can depict war (victory), peace, power, glory, prestige, memorialize, etc...
e. Use one of these forms of art:
i. Photography
ii. Sculpture
iii. Mosaic
iv. Painting
v. Mix Media
vi. Power Point
Justinian and his Attendants
Palette of Narmer
---
Friday, March 1-Friday, March 15
1. Assignment: Artifacts Using Found Objects around School (Mortality and Immortality assignment)
3 Grades (Craftsmanship, Artifact Theme, Visual Effect)
a. Definition of artifact: An object made by a human being, typically an item of cultural or historical interest
b. Students will form groups (2-4) to create their own artifacts using found objects from around school
c. Come up with a "catchy" title that sends a message about their artifacts
d. Students may collect items found around school such as:
i. candy wrappers
ii. chip bags
iii. milk cartons
iv. old graded papers
v. old flyers, passes, etc...
e. Through making artifacts students will learn about creating everlasting works using found objects.
pepon osorio, http://3.bp.blogspot.com/_ZhOJatv4q0w/TKqx_TmtW5I/AAAAAAAAARM/Bb7RpenEwIE/s640/osorio-sculpt-001.jpg
pepon osorio, http://repeatingislands.files.wordpress.com/2010/07/pepon1.jpg
---
Thursday, February 14-Friday, March 1
1. SLIDES: Mortality and Immortality
2. FILM: Modigliani
Movie Questions:
1. Who is the painter(s) in the film? (full name)
2. What art period(s) and movement(s) are this artist(s) associated?
3. Where did/do this artist(s) mainly produce his/her works?
4. When did this artist(s) produce his/her bodies of work?
5. How was this artist(s) motivated to create his/her works?
6. How did this artist(s) work? (techniques and methods)
7. How is this artist(s) works so innovative? (original, new, different, etc.)
8. Why did this artist(s) create in the manner he/she chose? (influences)
9. Were his/her works well received during his lifetime? Explain.
10. What significance does his/her work presently have on art history?
3. Assignment: Modigliani Portraits
Ask Yourself:
a. Discuss with students what immortality means to them
b. Discuss how Modigliani immortalized his portraits
c. What makes Modigliani's portraits distinct?
Show Samples of Modigliani portraits and student samples
Instructions:
1. Sketchbooks: (practice page)
a. Section off your paper in half the long way and into 4 quarters the short way of the paper
b. draw an oval shap which takes up two quarters of your page
c. draw an elongated neck, one quarter of page
d. draw the shoulders in the last quarter of the page.
e. begin drawing features of the face, learning about proportions of the face and exaggerating the features
2. Final Drawing:
a. 12 X 18 black paper and white pencil
b. measure paper in half the long way, 6"; section paper into 4 quarters measuring 4.5" the short way
c. draw an oval shap which takes up two quarters of your page
d. draw an elongated neck, one quarter of page
e. draw the shoulders in the last quarter of the page.
f. begin drawing features of the face, learning about proportions of the face and exaggerating the features
g. use oil pastels for color
http://www.artprojectsforkids.org/search/label/artist%20Modigliani
---
Monday, January 28-Tuesday, February 12
1. SLIDES: Chapter 9 Deities and Places of Worship
2. Assignment: Create your own God/Goddess
a. SKETCHES:
i. draw different patterns/designs and symbols to incorporate into your god/goddess
ii. draw out idea for god/goddess
3. Sample Gods and Goddesses from different cultures
4. Use 12 X 18 white paper or sculpt using found objects/clay
5. Use basic line designs and patterns to create your image
6. Add lots of color to enhance image
a. Think about:
Radial balance
Symmetry
Patterns
Repetition
7. Write a paragraph description of your God or Goddess:
a. Who is your God/Goddess? What do they represent?
b. What is their name?
c. Where did they come from?
d. When was the story of this God/Goddess establish
e. What culture is this God/Goddess associated?
f. How did the God/Goddess come to fruition?
g. What are their strengths and weaknesses?
http://t0.gstatic.com/images?q=tbn:ANd9GcT1Wap833FCBxMkur1MsDyeQhtAXpVIgBtUcFh1X0googVLIfj6
http://upload.wikimedia.org/wikipedia/commons/thumb/c/cc/Great_Goddess_of_Teotihuacan_(T_Aleto).jpg/500px-Great_Goddess_of_Teotihuacan_(T_Aleto).jpg
---
Tuesday, January 8-Thursday, January 24
1. SLIDES: Reproduction and Sexuality
2. Assignment: Cardboard Sculptures
a. Students will construct three dimensional sculptures using cardboard to create inanimate objects as a visual pun for male/female; ying/yang; positive/negative; alpha/beta; etc...
i. create a sculpture that must have two items which belong together in order to function
ii. show artist Chris Gilmour website and samples: http://www.chrisgilmour.com/en.opere.html
b. Look at Claes Oldenburg sculptures as a reference and student samples.
c. Students will create sketches to plan out for creating 3-D sculpture.
d. Use X-Acto knives to score and cut cardboard pieces
e. Use hot glue to piece together
f. Use gesso to paint all one color to give a clean look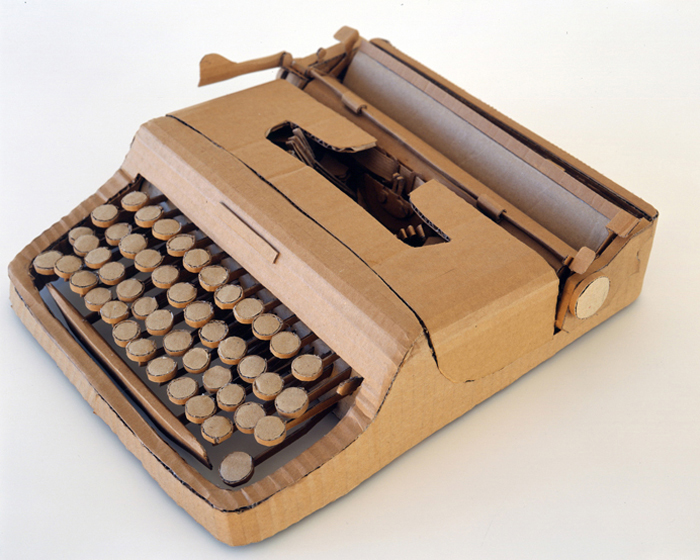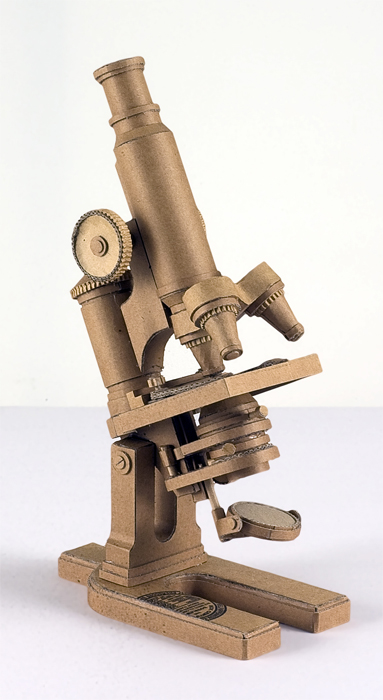 sculptures by Chris Gilmour
sculptures by Claes Oldenburg
---
EXTRA CREDIT:
1. Students, the following list are items you can turn in for extra credit:
a. Magazines
b. Empty water/juice bottles (already clean please)
c. CARDBOARD!
d. Buttons
e. Yarn, string, ribbon
f. wood sticks (popsicle, toothpics, small dowels, etc...)
g. Fabric
***Please ask if you are unsure about what you can bring***
---
Monday, December 3-Friday, December 21
1.
SLIDES:
Food and Shelter
a.
Assignment:
Performance Art Video i. create a video based on food for survival, culture, consumerism or philanthropy ii.
VIDEO:
Happy Meal iii. Discuss foods from different cultures and discuss food as glorious, sacred and problematic
iv. Examing artworks that depict food and eating
v. Securing or glorifying food, and food's relationship to art, ritual, and sympathetic magic vi. Investigating shelter for individual, group, and commercial use
3. Read article: http://futuryst.blogspot.com/2008/04/futurist-food-for-thought.html
4.
Assignment:
Create a Recipe Card
Food for thought:
In the early 20th century, the Italian Futurists believed that humans were machines and that in a machinelike way, people based their actions on what they ate. Futuristswrote cookbooks designed to shock and excite the senses, but not to fill the stomach,for they believed a full stomach was dulling. On one recipe, "Raw Meat Torn byTrumpet Blasts", the diner is to take mouthfuls of raw electrified beef, and to blow loud blasts on a trumpet in between those mouthfuls of beef.
a. Come up with a recipe you would like to use to perform! (refer Futurist Cookbook)
b. 5 X 7 card stock paper
c. Create designs or images for recipe card using watercolors, markers, and color pencils d. Students will bring in foods from recipe cards for a Culinary Arts Day
http://t3.gstatic.com/images?q=tbn:ANd9GcQ7r_3__7yz-vsS07ihs3MjPD7LYn2HsvVb2LrPdQmsks66cA788MDS7gB4fQ
http://2.bp.blogspot.com/_swprcgDk6PI/TA3rGI8aImI/AAAAAAAAALk/Md8U31R00AQ/s400/P1010050.JPG
http://3.bp.blogspot.com/-UMOnNiR32YY/TzK_A5g0ckI/AAAAAAAAE18/pCYBzsVsWiU/s400/Chilli-Shrimp-Marinara.jpg
---
Tuesday, November 27-Thursday, November 29
1. Return Pollock paintings
2
. SLIDES:
Chapter 6
What Do We Do With Art?
3.
Writing Assignment:
Replication of Masters
As the result of advanced experimentation in molecular physics, a small manufacturing company announces that it has perfected a process by which any work of visual art can be replicated on a molecule-for-molecule basis. In painting this process makes possible replication of an entire work, including canvas, frame, and all lower as well as exposed layers of pigment. No human guesswork (or error) is involved, and the finished replica is indistinguishable from the original to the most sophisticated visual, physical, and chemical analyses.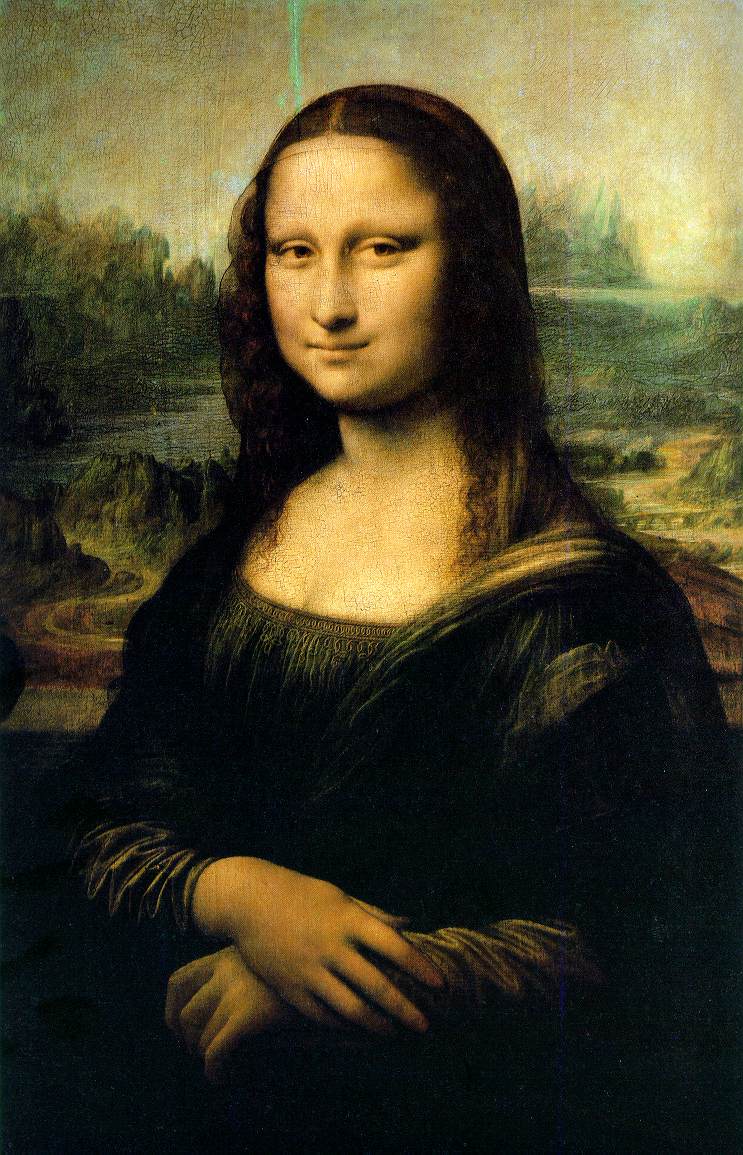 1-The company applies for a permit to produce one replica each of the Mona Lisa and ten other very well known works at the Louvre as insurance, it says, against "natural disaster". The replicas are tobe stored in a permanent underground vault and are not to be removed unless theoriginals are destroyed by calamities such as earthquake, vandalism, or nuclear war.2-The company applies for a permit to produce 100 replicas of each of the aboveworks to establish satellite museums in major cities and regional capitals throughoutthe world. 3- The company applies for a permit to produce unlimited replicas of the works andannounces that is plans to market the replicas in sundry and department store outletsfor $14.95 each
Would you grant any or all of the above permits? Why or why not? Defend your answer.
---
Thursday, November 8-Wednesday, November 21
1. FILM: Pollock
a. Answer film questions
2. Return graded Critique Papers
3. Altered Art Assignment: Silhouettes
a. Students will have their faces traced onto sketch paper to use as a template for silhouette heads
b. Cut out silhouette to trace two other faces onto white paper
c. Each page should represent YOU
i. Write a poem, story, words to a song about YOU
ii. Collage (likes, dislilkes, etc... ABOUT YOU)
iii. Automatism (free association)
http://farm4.static.flickr.com/3087/3084964204_c456200c76_o.jpg
http://media-cache-ec2.pinterest.com/upload/244249979761945157_C0gIbPDT_b.jpg
http://1.bp.blogspot.com/-7_zRKP5tumE/UGrpQE8r4wI/AAAAAAAABj0/fLq9kSCxAL0/s1600/Gracie+done.jpg
---
Thursday, November 1-November 8
1. SLIDES: Who Makes Art?
2. Assignment: Participatory Art/Community Art/Collaboration Art
a. 12 X 18 white paper
b. Draw three shapes (circle, square and triangle) anywhere on the page (shapes may overlap):
c. Begin creating a work of art based on these three shapes using pencil, pen, oil pastels, watercolors, magazines, glue, color pencils, and markers
d. After 1/2 hour, switch papers with another student at your table
e. After switching, students may now ADD to the artwork, but may not SUBTRACT from the original work.
3. FILM: Pollock
a. Answer film questions
---
Tuesday, October 24-Tuesday, October 30
1. Writing Assignment:Write a Critique
a. Pick one piece of artwork and print it out (attach copy to assignment)
b. Write a one page criticism of the artwork (typed, double spaced)
Ask yourself: (use these questions to help write your criticism)
a. What is the content or subject matter of this work of art?
b. Why was this work of art made?
c. What was the significance of the piece of art?
d. What was going on culturally/politically/religious at the time this piece of art was made?
e. During which art movement or period was this piece created?
f. What do you think this piece of art is about?
g. Is this piece successful in relaying or sending out a message?
---
Friday, October 5-Thursday, October 25
1. Assignment: Art with a Message (2 Grades)
a. Ask yourself: How can I visually present an idea in my work?
How will the audience understand the message?
b. Think about:
1. Every work of art was created within a historical, political, social,
or religious context.
2. Knowing about that context broadens and deepens our
understanding of a work of art.
3. How we encounter art affects what we think about.
4. All art is both mimetic and performative.
c. Create a piece of artwork that sends a message to a particular social group,
for example: help people to be accepting of homosexuality, self expression in school attire, violence against women, state some statistical facts about pollution, etc...
Guerrilla Girls, "Do women have to be naked to get Cildo Meireles, "Insertions into
into the Metropolitan Museum?"
---
Tuesday, Sept. 18-Friday, Oct. 5
1. Completed: Discovering Language through the Masters
2. Discuss: Media
3. Sketchbook: Altered Art
a. Brign 2 photocopied images of yourself to class (4X6 or 5X7)
b. Using clear packaging tape, students will learn to make transparencies from photocopied images
c. Create a Sketchbook page based on the question, "Who am I?"
i. use oil pastels, newspapers, magazines
ii. Adhere transparency to the top of collage to create a layerd effect
http://media.photobucket.com/image/altered%20art%20using%20transparencies/chrysti/Try%2520It%2520Tuesdays/friendcopy.jpg
4. Assignment: Linoleum
a. Discuss use and methods in using Linoleum
b. Sketchbook: students will draw a design or image in their sketchbooks to apply to linoleum
c. Using different colored construction papers and paint, create 5 editions of your linoleum print
http://www.google.com/imgres?q=linoleum+artworks&hl=en&safe=active&tbo=d&biw=1280&bih=852&tbm=isch&tbnid=V3IcblVl4pv94M:&imgrefurl=http://thelosersociety.deviantart.com/art/Pikachu-Linoleum-295294149&docid=VAPcaGT3aMeFWM&itg=1&imgurl=http://www.deviantart.com/download/295294149/pikachu_linoleum_by_thelosersociety-d4vt6f9.jpg&w=3264&h=2448&ei=t_RZUMSrEYem9gS_3ID4Bw&zoom=1&iact=hc&vpx=2&vpy=405&dur=233&hovh=194&hovw=259&tx=126&ty=81&sig=115558686186424289827&page=3&tbnh=140&tbnw=172&start=61&ndsp=35&ved=1t:429,r:7,s:61,i:308
Elizabeth Catlett
Sharecropper
1957 - 1968
---
Wednesday, Sept. 5-Monday, Sept. 17
1. SLIDES: Visual Communication
a. Discuss: Narratives in Art
2. Book: Discovering Art History
3. Sketchbook assignment (in class):
a. take a piece of paper and crumple it up
b. put paper in your back pocket for 1/2 hour
c. take crumpled paper out of your pocket and open it up
d. take crumpled paper and put a tear/rip in the paper
e. Create a piece of art from the crumpled ripped piece of paper (see examples below from "Beautiful Oops" book)
4. Assignment:
Discovering Language through the Masters

a. Pick a work of art with a theme. (bring in a copy of the image for a grade by next class meeting)
b Using carbon paper, retrace the image to create a line drawing of the work.
c. Apply your own patterns and textures
d. Change the color (a different color scheme than the original piece).
e. Incorporate one piece of pop culture
f. Attach original copy to drawing
Original Line Drawing James Hance copy "Mona Leia" Starbucks with Mona L
isa Leone Ardo
---
Monday, August 27-Friday, August 31
1. SLIDES: Learning About Art
2. Book: Discovering Art History
3. Video: Colbert Report: Steve Martin Book-What is Art?
4. Discuss: What is Art, Who Makes It, and What do We Do with It?
5. Assignment
a. Students: (Group) Think about "What is art?" "What constitutes a creation to become a work of art?"
b. Think of a theme for your arrangement
c. Collect objects from your personal belongings and the classroom
d. Arrange objects in a manner that you want others to notice when they look at your artwork
e. May use fabrics to display and arrange display to enhance layout, white paper strips for labels, misc. supplies to set under objects.
f. Display your arrangement and photograph (instructor)
g. As a group write a short paragraph responding to the question, "What is Art?"
http://www.flickr.com/photos/dweir/2213049355/
---
Monday, August 20, 2012-Friday, August 24, 2012
1. Introduction to class: discuss with students classroom instruction, supplies, policies and procedures
2. Review Syllabus and Plan for Discipline
3. http://new.schoolnotes.com/zhaibi01 pages and downloads for class
4. Art Appreciation Bingo (getting to know you game)
5. Review Bingo
6. Create portfolios
7. Students must turn in syllabus and plan for discipline for a grade
---
Appreciation Syllabus
Subject Area: Art -Visual Arts
Course Number: K07
Course Title: Art Appreciation/History/Criticism
Credit: 1.0

A. Major Concepts/Content. The purpose of this course is to enable students to develop an appreciation of art through the sequential study of art history and theory. Students will use skills of visual analysis to critique masterworks using the elements of art and principles of design.

The content should include, but not be limited to, the following:

-art vocabulary and visual language -major artists, architects, and masterworks -elements of art and principles of design -critical thinking and visual analysis -role, impact, and reciprocal relationships of art in history, culture, and society -information resources and strategies -personal and social benefits -community resources -career opportunities

This course shall integrate the Goal 3 Student Performance Standards of the Florida System of School Improvement and Accountability as appropriate to the content and processes of the subject matter.

Course student performance standards must be adopted by the district, and they must reflect appropriate Sunshine State Standards benchmarks.

B. Special Note. Hands-on art projects and field trips related to art periods and art media may be used to enhance learning experiences.

C. Course Requirements. These requirements include, but are not limited to, the benchmarks from the Sunshine State Standards that are most relevant to this course. Benchmarks correlated with a specific course requirement may also be addressed by other course requirements as appropriate. Some requirements in this course are not addressed in the Sunshine State Standards.

After successfully completing this course, the student will:

1. Demonstrate knowledge of appropriate art vocabulary and visual language.
2. Demonstrate knowledge of the significance of major artists, architects, and masterworks.
VA.B.1.4.2 understand that works of art can communicate an idea and elicit a variety of responses through the use of selected media, techniques, and processes.
VA.D.1.4.3 know the difference between the intentions of artists in the creation of original works and the intentions of those who appropriate and parody those works.
3. Analyze how artists use the elements of art and principles of design to communicate ideas.
VA.A.1.4.3 know how the elements of art and the principles of
design can be used to solve specific art problems.
VA.B.1.4.3 understand some of the implications of intentions and purposes in particular works of art.
4. Develop, justify, and apply personal artistic criteria incorporating aesthetic qualities and technical elements when critiquing selected works of art.
VA.B.1.4.4 know how the elements of art and the principles of design can be used and solve specific visual-art problems at a proficient level.
VA.D.1.4.1 understand and determine the differences between the artist's intent and public interpretation through evaluative criteria and judgment.
5. Demonstrate knowledge of the role, impact, and reciprocal relationships between the visual arts and history, culture, and society.
VA.C.1.4.1 understand how social, cultural, ecological, economic, religious, and political conditions influence the function, meaning, and execution of works of art.
VA.C.1.4.2 understand how recognized artists recorded, affected, or influenced change in a historical, cultural, or religious context.
6. Demonstrate knowledge of resources and strategies for locating information about artists and art history (e.g., internet, museums, and libraries).
VA.D.1.4.2 understand critical and aesthetic statements in terms of historical reference while researching works of art.
7. Demonstrate knowledge of personal and social benefits associated with the study of art history and criticism.
VA.E.1.4.3 know how to communicate with the public, the consumer, and the artistic community about aesthetic questions, entertainment, resources, and choices in education.
8. Demonstrate knowledge of community resources for preserving, exhibiting, and viewing works of art (e.g., local art museums, galleries, exhibits).
VA.E.1.4.1 know and participate in community-based art experiences as an artist or observer.
9. Identify career opportunities related to art history and criticism.
VA.E.1.4.2 understand and identify the skills that artists use in various careers to promote creativity, fluency, flexibility, and elaboration within the arts and across life.

The Student:
1. Will be graded on completion of assignments, understanding of concepts, in addition to meeting the criteria of assignments
2. Class participation: critiques, classroom activities (such as reading or writing assignments) and discussion.
3. Late or missing assignments will be marked down unless there is an excused absence or tardiness and will be made up within the appropriate time line.

Grading Scale:

A 90-100% Outstanding Progress 4
B 80-89% Above Average Progress 3
C 70-79% Average Progress 2
D 60-69% Lowest Acceptable Progress 1
F 0-59% Failure 0
Zero Z Did not attempt to do assignment 0

Required Supplies for Art Appreciation
An eraser
A pencil
An 8x 10 or 9x 11 sketchbook (preferably spiral bound)
Lined paper
3 ring notebook with dividers:
(Assignments/Notes/Handouts/Homework/ Quizzes)